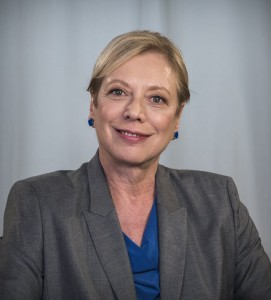 Deni Elliott holds the Eleanor Poynter Jamison Chair in Media Ethics and Press Policy and serves as Department Chair of the Department of Journalism and Media Studies at the University of South Florida, St. Petersburg. She was appointed to the Fulbright Specialist Roster in 2015.
Prior academic appointments include Mansfield Professor of Ethics and Public Affairs (1992-1996), University Professor of Ethics (1996-2004), Professor of Philosophy (1992-2004), and Founding Director, Practical Ethics Center (1996-2004) at University of Montana; founding director, Ethics Institute (1988-1992), Adjunct Associate Prof., Department of Philosophy (1988-1992) and Associate Research Professor, Department of Education (1988-1992) at Dartmouth College. Dr. Elliott's first post-doctoral teaching position was in Utah State University's Department of Mass Communication. She was awarded tenure and promoted to associate professor three years out of her doctoral work and was promoted to full professor eight years after completing her doctoral degree.
Dr. Elliott's publications have spanned the disciplines of practical ethics. She is the author of more than 190 articles and book chapters for the scholarly, trade and lay press.  Her books (authored, co-authored, edited, and co-edited) include Ethics for a Digital Era (Wiley/Blackwell, forthcoming); Ethical Challenges: Building an Ethics Toolkit (Authorhouse, 2008); Ethics in the First Person, A Guide to Teaching and Learning Practical Ethics (Rowman & Littlefield, 2007); The Kindness of Strangers, Philanthropy in Higher Education (Rowman & Littlefield, 2006); Journalism Ethics: Contemporary Issues (ABC-CLIO, 1998); Ethics of Scientific Research, A Guidebook for Course Development (UPNE, 1997); Research Ethics: A Reader (UPNE, 1997); The Ethics of Asking: Dilemmas in Higher Education Fundraising (Johns Hopkins University Press, 1996); and Responsible Journalism (SAGE, 1986). She has also co-produced three documentaries: The Burden of Knowledge, which considers ethical questions created by pre-natal genetic testing, A Case of Need and Buying Time, both of which focus on the role of news media in bringing about extraordinary medical care. The documentaries are distributed by Fanlight Productions. From February, 2003-June, 2006, Dr. Elliott co-hosted Ethically Speaking, a weekly 2-minute interstitial show for public radio, syndicated through PRX (Public Radio Exchange).
Dr. Elliott holds the B.A. in Communication from University of Maryland, M.A. in Philosophy from Wayne State University and an interdisciplinary Ed.D. in Philosophy of Education from Harvard University with work in the Kennedy School of Government, Department of Philosophy and Harvard Law School, in addition to the Graduate School of Education.