Breakfast is the most important meal of the day. After sleeping, your body craves nutrients in the morning even if you don't. I've never been a morning person and breakfast has never been a priority of mine, until I started waking up at 7:00 am.  I found myself in class unable to focus because I was distracted about how hungry I was. I realized I needed to come up with ideas for quick breakfast meals to start my day.
Since making breakfast a priority, I have been more energized, more focused, and overall just in a better mood.  I also found myself eating lighter lunches.  Studies show that skipping breakfast is not only harmful to your health, but to your weight as well. A lot of you ladies may think that skipping breakfast may lead to weight loss, but I'm here to tell you that's not the case. Skipping breakfast makes weight loss more difficult. Prior to incorporating breakfast in my diet, I found myself snacking a lot throughout the day and consuming more calories. So for those of you who are short on time in the morning like me, here are some quick on the go breakfast meals to get you fueled for the day.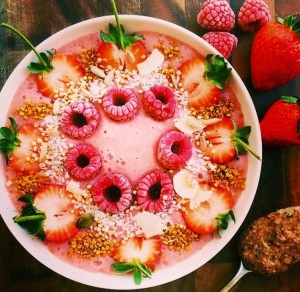 Oatmeal
Oatmeal is my absolute favorite breakfast meal. Growing up I hated it, but that's because I didn't know how to prepare it. Eating oatmeal lowers cholesterol, reduces risks of high blood pressure, boosts the immune system, and even helps prevent diabetes. The best part? It can be ready in 2 minutes. Just add hot water or milk and voila. I personally like to mix in a variety of nuts, cinnamon, and chia seeds for added protein, but you can add whatever you'd like. When I am craving sweets, I love to add dark chocolate chips and raspberries. For added sweetness to any oatmeal, skip the sugar and add Stevia, an alternative sweetener that is much healthier than Splenda.
Eggs
Eggs are one of the most nutritious foods. They are abundant in vitamins, reduce strokes, and are an excellent source of protein, a single large egg contains 6 grams of protein. Eggs are my personal favorite because they fill me up, and I end up eating less throughout the day. We all have our preference of how we like our eggs cooked, but the best way  prep them is to hard boil them the night before and have them ready for the next morning. Hard boiled eggs generally last a week in the fridge, so you can prep your breakfast for the entire week in 5 minutes if you want.  Sprinkle salt and pepper to them to add some flavor. I personally like to squeeze a few drops of lemon juice on them.
Smoothies
Smoothies are the best grab and go breakfast. Simply toss whatever fruit you like into your blender, add some ice, juice or milk and voila! You have a nutritious breakfast that you can drink on your way to work or class. The best part is you can make a smoothie out of anything you want, from carrots and apples, to pineapple, spinach and blueberries; creating different combinations is always fun! My favorite smoothie? Strawberries, blueberries, blackberries, ginger, spinach, lemon juice, just a hint of agave, ice, and water.
Fruit, almond butter, and granola sandwiches
I love almonds, so I was excited when I discovered almond butter. It's a delicious alternative to peanut butter and some people believe it's healthier too. For a delicious and quick alternative to pancake or waffles, cut up an apple or banana, spread almond butter on them, sprinkle granola and cinnamon on top, and add a hint of honey if desired. The result will melt in your mouth and keep you feeling full until lunch! This also makes for a great snack in between meals.
Note* heat up the almond butter in a microwave safe bowl and add a dash of honey and cinnamon to make a delicious fruit dip. Click here for more delicious almond butter recipes.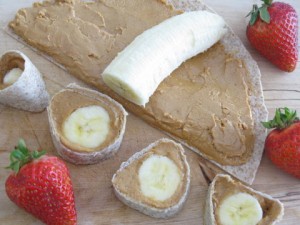 Those of you who claim you don't have enough time in the morning to eat breakfast no longer have an excuse. When you wake up in the morning, refer to the options above, or even search on Pinterest for other alternatives. The options are endless!
Bon Appetit !
xoxo Jaimie