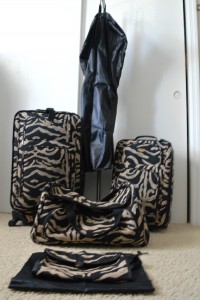 Packing is like anything; you get better with practice.
I can't tell you how many times I have packed for trips. Each time I do, I feel like I get a little better at it.
Know yourself. I know, this sounds kinda lame, but really though. So many times I have packed one outfit for each day with the matching top and bottom, matching accessories and shoes. Then I get there and I wear the same jeans 2 different days and end up wearing a hoodie of my sisters at least twice.
This brings me to planning your outfits. Have an idea of the activities you will be doing when you get there, and check the weather ahead of time. Always pack a pair of jeans. Always pack a sweater. Even if you are going somewhere tropical; things happen, it does get cold.
While packing your bag, take note of what may be on the bottom after you zip and stand it up. This can really mess up the contents.
If you are packing liquids, make sure they won't break and spill all over. Just in case, put them in a Ziploc.
Pick a color: black or brown. Stick with that color theme while choosing clothes so you can pack half the amount of shoes, sweaters, accessories and any other extras.
If you are going to be away for a while, pick pieces that wash easily as well as mix and match easily.
Fold your clothes. This will alleviate any surprise wrinkles along with creating more room in your bag.
Packing the carry-on:
Empty water bottle. I use a Brita bottle because it has a filter. This way you don't have to drink out of the water fountain or keep asking a restaurant for water re-fills. It is important to stay hydrated while flying. Something about planes does make you dehydrated more than any other kind of travel.
Snacks. If you don't want to pay crazy airport prices, bring your own snacks. I like to snack on nuts or snack mixes while I wait.
Power strip. There are never enough outlets to go around when you need one. Pack your own power strip so no one can be upset when you need to charge your phone or laptop. You just opened up more outlets for other people.
Sweater or scarf. It is always so cold in airports.
Activities. Airports can be boring. People watching can only last so long and unless you are in the Chicago airport, there isn't a whole lot to do.
Necessities. I always carry lip balm with me because that is just something I like to have with me at all times. For longer flights, I take a little sample pack that I got on an American Airlines flight overseas not too long ago. Sometimes I use it, sometimes I don't. I always feel more prepared when I do have it with me though. It has socks, an eye mask, slippers, a little toothbrush and toothpaste, earplugs, tissues, an electronics wipe, lip balm, and lotion.
Jacket or anything else you will need in the next 24 hours. This is if there is cold weather where you are going or where you are leaving from. Jet bridge traffic does happen. It gets cold waiting to board or waiting for the carry-on if you had to valet check it. Plan ahead and take it out before you give it to valet. Also, if your checked bag does get lost or fall behind, at least you can leave the airport. If your bags get lost, you may not get your bag till the next day. I typically pack one outfit in my carry-on, just in case.