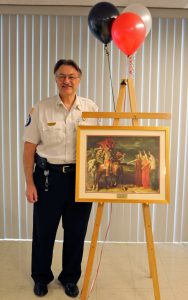 By NANCY McCANN
USFSP Student Reporter
SOUTH PASADENA – When city commissioner Gail Neidinger wants to know something about Shakespeare, she knows where to turn.
Dayton Saltsman, who just retired as the city's fire chief and director of public safety, has a bachelor's degree with a concentration in philosophy, a master's degree that included study abroad at the University of Oxford, and a passion for the bard and his plays.
So when Neidinger asked Saltsman when Ophelia dies, a question from her crossword puzzle, he had a quick, correct answer: "Hamlet, Act 4."
And when she pointed to figures on the box top of a puzzle on Shakespearean characters, he correctly identified every one of them.
"I am drawn to Shakespeare because he has insight into human behavior and all its manifest ways," said Saltsman.
As something of a Renaissance man, Saltsman, 68, might seem out of place in a firehouse. But when he retired May 31, he had spent 36 years in fire service in Pinellas County, the last 10 as chief in South Pasadena.
"I didn't think I would have a long career in fire service," he said. "I thought I would eventually be teaching philosophy."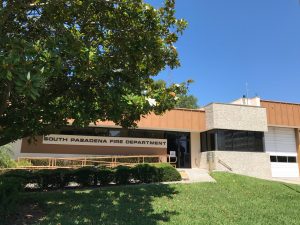 Saltsman grew up in St. Petersburg. After graduating from the University of South Florida, he became a firefighter and paramedic and worked in intensive care at Palms of Pasadena Hospital while earning an associate degree in nursing.  He also led tours at the Salvador Dali Museum.
In 2014, he earned a master's in liberal studies through the online program at Excelsior College in Albany, N.Y.  His studies took him to England for short courses on Shakespeare and novelist Jane Austen at Exeter College at the University of Oxford.
His master's thesis was titled "The Tragedy of Hamlet: Shakespeare's Response to Plato."
In South Pasadena, a city of 5,000, the fire chief is also the director of public safety.  In addition to fire protection and emergency medical services, the department is responsible for hurricane preparedness, various safety programs for residents, and coordination with the Pinellas County Sheriff's Office, which handles policing inside the city.
The firefighters, who are also paramedics or emergency medical technicians, responded to an average of 277 calls a month during fiscal year 2016, including some from outside the city limits when aid was needed by other fire departments.  About three-fourths were EMS calls, mostly for falls.
"My job has been challenging because there is more to handle with less resources and more cross responsibilities in a small city," said Saltsman. "We have fewer people to accomplish a task and fewer people with a wider range of responsibilities."
Twenty-three applicants made the deadline to be considered as Saltsman's replacement.
Emery Culverhouse, the deputy fire chief for the last two years, will be acting chief until the position is filled. Culverhouse did not apply to be chief because he thinks he needs more experience, said Neidinger, the city commissioner who oversees the fire and public safety department.
One of the new chief's biggest tasks, she said, will be exploring the construction of a new fire station. The department's longtime home at 911 Oleander Way was not built to accommodate female firefighters, and its exercise area is not air-conditioned.
"We don't want to throw money into an old building," said Neidinger. "We have to start making plans."
The outgoing chief, meanwhile, said he has "no concrete plans for retirement."
Saltsman said he will spend more time with his two daughters and his fiancée.
He will be playing a new Selmer Mark VI tenor saxophone – a throwback to his teenage years, when he played sax and keyboard in a rock band called The Rhodes VI.
"And, of course, I'll be reading."