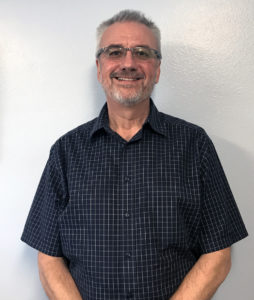 By WHITNEY ELFSTROM
USFSP Student Reporter
SOUTH PASADENA – Name any department at City Hall and chances are Arthur Penny has run it.
In seven and a half years as a city commissioner, he supervised the departments of finance, public works, community improvement and public safety. The only department he hasn't directed – administration – is reserved for the mayor.
"I have the experience and experience matters," said Penny, 59. "There is no one who knows the city better than I do."
Penny stepped aside from city politics last year, but now he's back – one of four candidates for two City Commission seats in the March 13 election.
All four candidates have served on the commission, but none longer than Penny. That's something he touts as he ticks off his accomplishments as a commissioner in the tiny town (population 5,000).
Under his leadership, he said, the yellow lights on the town's stoplights were lengthened from 3.6 seconds to 4.3 seconds (the longest allowed by law), a school bus stop was installed on Pasadena Isle and pedestrian crossing signage was erected near the entrance of Bay Island Condominiums.
In his first year in office, he said, he initiated a move to pay off the city's debt on its reclaimed water system with money that "was just sitting there" in reserves.
Encouraging business development in South Pasadena has been a priority for Penny. In 2014, he said, he helped create a business revitalization committee that helped bring Ace Hardware, Taco Bell and Pet Supermarket to the city.
Those efforts need to continue, he said.
"I'd like to see the city open up for everyone, and instead of just being a pass-through on the way to St. Pete Beach it'll be a place where people will want to stop for a while," Penny said at a candidate forum last month.
One of Penny's top priorities is building a new fire station in South Pasadena – a goal all four commission candidates have embraced.
"The building is falling apart, the roof leaks and our firefighters have to work out in an open garage," said Penny. "It's mandatory they have to work out every day, and you can imagine how hot it is in July and August."
The fire station lacks bathrooms and sleeping quarters for women, he said, and that limits the opportunities for female firefighters in the city.
Penny and fellow candidate Gail Neidinger, who are unofficially running in tandem, have both been endorsed by the International Association of Firefighters.
In his campaign, Penny also cites his stint as president of the Suncoast League of Cities in 2016-2017 and his work at Pasadena Community Church.
Penny, a native of Chicago, moved to the Florida Panhandle in 1982. He attended Gulf Coast Community College and worked as a park ranger in Panama City from 1997 to 2001.
In Bay County, court records show, Penny had some brushes with the law – two misdemeanor convictions for possession of marijuana and two arrests for DUI. One DUI charge was dismissed, and the other resulted in a $1,899 fine, records show.
Penny also was charged with failure to appear on a misdemeanor battery charge that he said grew out of a dust-up after he was attacked at a hot dog stand he ran on Panama City Beach.
Penny said the judge dismissed the charges, but records indicate that he pleaded no contest and the judge withheld adjudication.
After 20 years in the Panhandle, Penny came to South Pasadena to pursue a condominium management license at the Bob Hogue School of Real Estate.
As a licensed community manager, he has run Sea Towers, a 55-plus high-rise complex northwest of St. Petersburg, since 2003.
Penny got into public service by chance and said he stayed out of determination.
In 2009, his neighbor, former Mayor Fred Held, recommended that he apply to become a city commissioner when two commissioners stepped down for personal reasons.
To his surprise, he was selected by the commission to fill one of the vacancies.
Tampa Bay Times senior news researcher Caryn Baird contributed to this report.