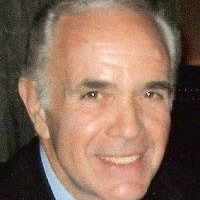 By MICHAEL MOORE JR.
USFSP Student Reporter
SOUTH PASADENA – He grew up in a cold-water tenement in Manhattan, the youngest of four children, and lost his father – "my best friend" – when he was 11.
He earned a bachelor's degree in accounting from St. John's University but never worked a day in accounting. He was fired from his first job – selling canned tuna fish and mandarin oranges – a couple of days before he was set to get married.
Years later, he came up short in three campaigns for the South Pasadena City Commission, and his term as mayor in 2013-2016 was filled with tumult and controversy.
So why, after all that and three open-heart surgeries, is Dan Calabria, 82, running for the commission again? He is one of four candidates for two seats in the March 13 election.
Determination, he says, and a strong belief that voters should have choices on Election Day.
"I don't create goals unless I'm serious about them," said Calabria. "I focus attention on achieving the goal and I try not to let things get in the way, and sometimes it comes across as being rude or insensitive."
He will get no argument about that from the four commissioners who served while he was mayor.
An outside attorney they hired concluded that Calabria "has a capacity to be snide, petty, condescending, sarcastic, belligerent and unnecessarily combative."
To protest his raised voice and banging gavel, the commissioners walked out of several meetings. And for a time they considered trying to oust him for "malfeasance, misfeasance, neglect of duty and incompetence."
Calabria, who responded by suing the city, was defeated when he ran for re-election as mayor in 2016.
Despite the controversy and bad blood, Calabria said, he made a vow to himself.
"After I was elected mayor and blown out of there, I vowed that I would run in every election for one primary purpose – to make sure that an election is held," he said. "I am so tired of people just putting their name in, and because nobody runs against them they become a commissioner."
In a campaign advertisement in a community newspaper, Calabria sounds like the Calabria of old.
"We can no longer afford to have commissioners who make false claims and take credit for things they had nothing to do with," he said, mentioning no names. "We can do better."
For Calabria, there is one big issue in South Pasadena: its form of government.
The tiny town (population 5,000) is the only municipality in the state that still leaves the daily operations of government in the hands of its elected commissioners.
Calabria calls that form of government "outdated" and speaks of the "desperate need for a (professional) city manager."
According to him, a city administrator – a less powerful post that some current commissioners favor – just won't cut it.
"We don't need a city administrator. For our tiny little city? Come on, that's nuts," he said.
The secret, he says, is in finding out what other cities are doing so that South Pasadena can emulate their successes. He points to neighboring Gulfport as a prime example of a city that should be a model.
"You've got to find out what others are doing to make sure you're at least close to doing the right thing," said Calabria. "You shouldn't be a standout or way, way, way back at the end of the line. You can't make progress like that."
City managers, he says, do one thing religiously: They compare notes with each other. He wants South Pasadena to be kept in the loop.
Although he was fired as a food salesman many years ago, Calabria went on to excel as a mutual fund executive.
He joined Dreyfus Funds as an assistant advertising manager before becoming the national sales manager and executive vice president of Oppenheimer Management in 1965.
In 1986, he moved to Pinellas County to become president and CEO of Templeton Funds Management Corp. Six years later, he ended up in South Pasadena, where he got involved with local government as founder of the South Pasadena Voters Watch.
Nowadays, he said, he feels like a native and gets cold in 50-degree weather.
He calls South Pasadena "the best kept secret in Pinellas County" and says he is committed to making it a "better, more friendly and vibrant city in the future."
"Being a director of mutual funds is not unlike being a commissioner," said Calabria. "It's not unlike a municipality, except the corporate world is for-profit and municipality is for service, presumably."