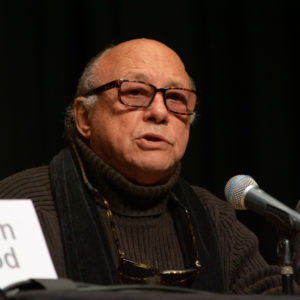 By CARRIE PINKARD
USFSP Student Reporter
GULFPORT – Michael Fridovich took a bite of his glazed donut.
"I shouldn't be eating this," he said with a chuckle. "Too much sugar."
He was sitting in SumitrA Espresso Lounge, a business on the city's bustling Beach Boulevard. He ordered two bags of coffee to go. Whole beans – he grinds them himself.
Fridovich, 71, makes it a point to support local businesses in Gulfport. He says he has visited every restaurant in the city.
"I like to try to visit as many businesses as possible," Fridovich said. "There's a lot of good restaurants here. I've tried every restaurant we have. I've made it a habit to walk up and down the street and talk to business owners."
That walking and talking has paid off with three two-year terms on the council. He hopes it pays off again on March 12, when he faces Richard Fried in his quest for a fourth term.
Fridovich hopes to defeat Fried with the same strategy he's used the past six years: emphasizing his diverse life experiences, working well with City Council colleagues, and attending as many community events as possible.
"I think the difference between me and my opponent is I've done a good job locally and also outside the city as a representative," Fridovich said. "As a City Council person you are a representative of Gulfport wherever you go. There are 120 representatives in Pinellas County. I take being one as an honor. You have to know how to network with people."
Fridovich points to his endorsements as proof he's performing well.
"I've gotten endorsements from Mayor Sam Henderon, the police sergeants (union), the local fire union and Stonewall Democrats. You don't get endorsements because people like you. You get endorsements because you've done a good job."
Fridovich says he and the City Council have accomplished a lot in the past six years. With a council-manager form of government, it's difficult for any one person to take credit for completed projects since it takes three votes to pass an issue.
However, one accomplishment that he said he is comfortable taking credit for is the Gulfport mooring field, an area just off the municipal beach that can accommodate up to 25 vessels.
"I was given credit for the mooring fields. I've been pushing it for five years and we finally got it completed. If I wasn't on the council we'd probably still be talking about the mooring fields," Fridovich said.
Fridovich brings a lifetime of rich experiences to his position in Gulfport. He says he's run with the bulls in Spain, lived on a sailboat for three years, and owned a tapas restaurant.
He's lived a nomadic life, pausing for stretches of time in Miami, Atlanta, the Cayman Islands and South Carolina. He's worked many jobs, including taxi driver, security guard and real estate agent. He says he feels satisfied since landing in Gulfport and plans to stay.
Despite the constant change in his life, he likes the City Council exactly the way it is.
"I support the entire council as it sits now. We have a good working relationship. It was pointed out two years ago that 98 percent of the time we vote 5-0 on things," Fridovich said.
As the representative of Ward 4 in the northeastern quarter of the city, Fridovich is particularly vested in its interests.
Ward 4 is more industrial than the other three wards. It can't claim a jewel like the marina or Stetson University College of Law, and it's not close to the colorful business district. But any negative connotations about the ward are unwarranted, Fridovich said.
"There's nothing wrong with Ward 4," he said. "I take a very proprietary attitude towards my ward. The majority of people who criticize Ward 4 don't live in Ward 4."
One of the ways he's trying to improve the ward is through Trolley Market Square, a new outdoor market that commemorates a trolley line that once connected Gulfport to St. Petersburg.
"There will be concerts and events there. It's a way to open up the city. So much of our venues are downtown here. Instead of focusing everything downtown, we're also focusing in my ward," Fridovich said.
At a candidate forum on Jan. 29, mayoral candidate Frank Kemnetz said crime is the biggest problem facing Gulfport today. Fridovich strongly disagrees. "The police chief has come out to say our crime is down 38 percent. It's down due to economics and good policing. To say our crime is on the same level as Chicago and Los Angeles is irresponsible. It's an absurdity," Fridovich said.
He is not a warm and fuzzy person, Fridovich said, but he likes to keep warm and fuzzy pets. He has always been a cat person and likes to name his feline friends after real people.
His current friends are named Hemingway, Frida (for artist Frida Kahlo) and Bukowski (for poet Charles Bukowski).
Fridovich is a homebody. If he had it his way, he would stay home with his cats and a good book. Stephen Kinzer, John Fante, and Hemingway are among his favorite authors.
Fridovich said he has invested six years in improving Gulfport. He takes offense that the candidates running against the incumbents have little good to say about the city.
"None of the challenging candidates running for office have said anything positive about Gulfport," Fridovich said.
"They only say what's wrong with Gulfport. If you're so unhappy, why are you living here? Are you telling me everything in Gulfport is wrong and you're the only one who can fix it?"