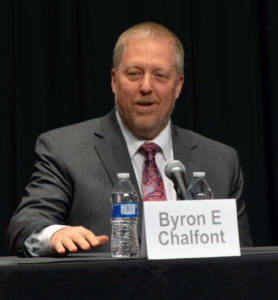 By DINORAH PREVOST
USFSP Student Reporter
GULFPORT – Since his boyhood on the New Jersey shore, Byron Chalfont says, he has always lived near the water and indulged his passion for surfing and all things water.
And wherever he has landed – the San Francisco Bay Area, Honolulu and now Gulfport – he opened a restaurant or bar.
Now, five years after arriving in Gulfport, Chalfont has plunged into politics. He is running against Chrisan Herrod and incumbent Christine Brown in the March 12 campaign for the City Council.
Chalfont, 57, acknowledges that he's not well-versed on all the issues, but he is certain of this:
He wants to end the favoritism he says is widespread in the city's government.
"It's the good old boy network here. This is a new century; we need to get out of the 1800s," Chalfont said.
"I've ruffled feathers here (as a businessman) because I was going to be honest and fair to everybody."
He points to his restaurant, Siri's Gourmet Burgers and Pizza, as the best evidence he's well equipped for public service.
He said he turned it from a loser to a winner in five years.
"There's a reason why I took this place from making $100,000 in sales the first year. I surpassed half a million dollars in sales last year," he said.
He said the city's budget and spending need the same attention because "there's money out there that's being misspent."
The parking problems that sometimes affect his restaurant on Beach Boulevard suggest the city needs to consider building a parking garage, he says. He also favors a community pool.
Chalfont attended Fairleigh Dickinson and Rutgers universities in New Jersey but didn't obtain a degree. He also studied real estate and business law at the College of San Mateo.
He met his wife at a shopping mall in China. She was a college professor there.
They moved to Gulfport from Honolulu to raise their daughter, Siri, 10. Chalfont said he was attacked twice while walking home in Waikiki, the Honolulu neighborhood where they lived. So he and his wife chose to raise their daughter in a smaller, safer town.
A year after they arrived, they had a son, Byron III, now 4.
Chalfont said these days he occasionally heads to Florida's east coast to surf. Now he takes Siri with him.