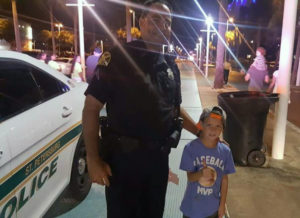 By AMY DIAZ
USFSP Student Reporter
ST. PETERSBURG – John Capra had been on his morning patrol shift for just 29 minutes when three chilling words came over his police radio.
"Two officers down."
It was Jan. 24, 2011, and Capra recalls it as the scariest day of his career.
He had been in the St. Petersburg Police Department for 11 years, but he still did not feel prepared to deal with the sudden, violent deaths of two of his colleagues.
"I had to go right back responding to calls after that," said Capra, 45. "It was really weird."
Being a police officer was something Capra fell into.
He was born and raised in St. Petersburg and attended college 30 miles away at the University of South Florida Tampa. He majored in chemistry.
A part-time job working security at Sears led him to the St. Petersburg Police Department in 2000, the same year he married his wife, Bonnie.
They have five children, a German shepherd named Elsa (after the ice princess in Frozen), cats named Cleo and Teddy, and a 50-gallon fish tank.
"My family is very supportive of what I do," Capra said. "My wife knew what she was getting into."
While patrolling District 3 from 2 p.m. to midnight on April 7, Capra snacked on peanut butter M&M's, brainstormed ideas for his son's surprise party and caught snatches of the Tampa Bay Rays game as the radio played in the background.
To this baseball fan's delight, his police cruiser previously belonged to retired officer Pete Yarbrough, whose nephew pitches for the Rays.
That Sunday shift led him to a yard strewn with angel statues, Halloween masks and empty cans of Fancy Feast cat food; a bank parking lot where six transients were reportedly loitering; an animal hospital where a young man had been bitten by a dog; and the house of one of his "regulars" for a domestic violence call.
As he drove from call to call, Capra smiled and waved to a woman on a walk, a man working on his car and three young kids playing in their yard with toy lightsabers.
"People are usually friendly when they see me," he said. "They like to feel safe."
Capra says he doesn't feel scared most days – just alert.
In almost 19 years as a police officer, he has never fired his weapon. He has seven years until retirement and hopes he'll never have to.