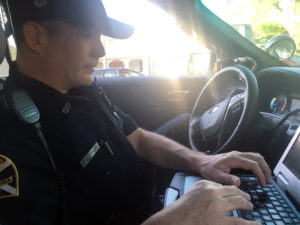 By EMILY WUNDERLICH
USFSP Student Reporter
ST. PETERSBURG – In 19 years with the St. Petersburg Police Department, he's never fired his weapon.
That's because, to Officer Douglas Gaddis, it's all about "how you treat people."
"People don't call us to say, 'Hey, I'm having a great day, let's go get a drink,'" he said. "It's, 'Hey, I'm having a bad day, and you need to come fix it.'"
Gaddis, 41, patrols the near south side of the city, usually from 2 p.m. to midnight.
"Some days it can be really busy and it still drags," he said.
As a white police officer, he's frequently met with looks of distrust and even fear when he patrols communities of color.
But he waves to everyone he sees. And sometimes people will flag him down to shake his hand and tell him he's doing a good job.
"Treat people like people, whether they're the bad guy or not," he said.
He graduated from USF Tampa in 1999 with a degree in criminology before joining the police force. He said his uncle, a police officer in Austin, Texas, inspired him to pursue a career in law enforcement.
"You either play pro baseball or do this," Gaddis joked. "Pro baseball stopped working out for me after high school."
Gaddis told himself he'd never end up romantically involved with another officer. But that changed in 2002, when he started dating Sarah, a co-worker with whom he'd grown close over the years.
They've been married since 2004 and have two children: Jacob, 15, and Julia, 10, whom Gaddis calls his "little hockey-loving ballerina."
The couple can still work the same hours, but they no longer patrol the same area. Sarah's focus is downtown, with special attention on the growing homeless population.
Although his job is full of ups and downs, Gaddis prefers to focus on the ups. His favorite "up" is when he feels like he's made a difference, especially when he reconnects with people later on and sees they're in a better place.
He pulls over on the side of the road to finish an incident report. As he does, a little girl on a Razor scooter waves from her driveway. She's wearing a red polo shirt, and her hair is braided with beads.
"Are you the police?" she hollers, a look of uncertainty briefly crossing her face.
"Yes, I am!" He pauses before opening his car door.
"You know what?" he says. "She's so cute, I have to give her this."
He leaves the car to give her a sticker with a police badge on it.
"I love kids," he says. "And it infuriates me when bad things happen to them."
He gives the girl a high-five before returning to his car and responding to the next call.