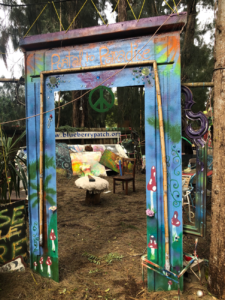 By TAYLOR TEW
USFSP Student Reporter
GULFPORT – Share to survive, survive to share. That's the mission statement of The Blueberry Patch in Gulfport.
Behind a tucked-away wooden fence at 4923 20th Ave. S lie hundreds of trinkets, tables and chairs in a space that's hidden like a secret.
Vibrant colors fill the wooded area. Pieces of art abound.
On the 1st, 7th, 11th and 22nd of each month, The Blueberry Patch comes to life to host open-mic night, feature artists, open-jam sessions and band nights that draw dozens of people.
Those specific dates aren't random. They reflect the beliefs of the late Dallas Bohrer, a devotee of numerology who found occult significance – like creativity, peace, grace – in certain numbers.
Bohrer created The Blueberry Patch on July 7, 1977. ("Established 7-7-7!" says its website). It started in south St. Petersburg, changed locations a few times and landed in Gulfport in 1994.
"BE FEARLESS ON THIS STAGE," reads a sign on the platform where numerous local artists have performed.
"Our mission is to promote art, music and literature in the community," said Bob Feckner, one of the 11 board members.
The Blueberry Patch is closed for renovations now, but it is expected to reopen in early 2020.
There are volunteer days every Saturday from 11:11 a.m. to 3 p.m. when anyone can come and help with clean-up. (The number 1111 is considered a code for activation in numerology.)
Feckner said the board often sees a handful of volunteers on Saturdays and occasionally has larger groups of 15 to 20 people.
On Oct. 19 only four volunteers attended, two of them board members. There was trash to be picked up, lights to be hung and branches to be cut down in the spacious yard.
"It's the music we come for, and the people. I should've volunteered sooner," said first-time volunteer Shannon Walker.
No board member is paid. Every person and volunteer makes a contribution simply by lending a hand.
The Blueberry Patch does take donations at the door, which are used to support the Gulfport Police Department's yearly charity drive and the Orange Blossom Jamboree, a local music music festival.
The Blueberry Patch's expressive backyard once belonged to Bohrer, its founder.
He died in 2014, but it is clear the impression he made in the city has endured.
"Dallas described this place like you were inside of a Christmas tree looking out," said Feckner.