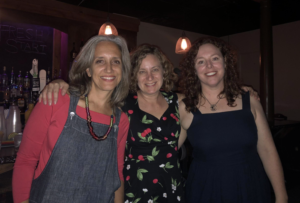 By LEANNA DOOLITTLE
USFSP Student Reporter
ST. PETERSBURG – What do Legos, Jack Kerouac, and virtual reality have in common?
Not much, unless you attended Nerd Nite on Oct. 23 at the Iberian Rooster at 425 Central Ave..
The event, which is billed as "a TED talk with beer," is all about creating a space for anyone brave enough to go on stage and talk unabashedly for 20 minutes about their passion.
One speaker is by day an artist and muralist and by night an avid fan of Kerouac.
James Hartzell's admiration for Kerouac started in high school and has gotten stronger over time. He is the secretary of the Friends of Kerouac House Foundation, a group working to make Kerouac's last house at 5169 10th Ave. N in St. Petersburg a historical monument.
His dedication to preserving Kerouac's legacy in St. Petersburg has even played out in his art.
During the 2016 SHINE festival, Hartzell painted a mural of Kerouac on the side of the Flamingo Sports Bar, the place where Kerouac "notoriously drank himself to death" in 1969, said Hartzell.
Although Kerouac's wild lifestyle was interesting, Hartzell was drawn to the way he connected with people.
"Everyone was given equal importance in his novels. It didn't matter if you were a field hand in Mexico, or a jazz musician, or a vagabond like him."
By connecting the routes of all the places that Kerouac lived, Hartzell said, we can bring those communities together.
"Appealing to the west coast crowd in San Francisco to the east coast crowd here in St. Pete, … we want to build bridges, we don't want to wall people out," said Hartzell.
Another speaker, Tod Stephens, brought his Oculus Go headset and described how he uses 3D technology to create films displayed through virtual reality.
He went through the process of creating, editing, and displaying a film called "Fractal Immersion," which he created using 360 camera technology.
According to the Nerd Nite facebook page, fractals are "colorful patterns driven by mathematical formulas."
After Stephens' presentation, the audience took turns with the Oculus Go headset, immersing themselves in the geometric world of his film.
Stephens' goals are to use live, interactive, 360 videos to help the SPCA promote dog adoptions, and to have his fractal film displayed at the Tribeca Film Festival.
The last speaker was Scott Fitchet. His presentation was about creating small scale dioramas of solar power technologies, making the large and complex process easier to understand.
By using Legos to describe the intricate systems of solar power, Fitchet hopes to educate people of all ages. "Adults aren't going to save the world, so I'm going to teach this stuff to little kids," he said.
After going to Nicaragua to learn how to install solar panels, Fitchet figured out how to break down the process into four basic components – solar panels, charge controllers, battery banks, and outlets.
According to Fitchet, once you know how all these things work together, installing solar panels is less daunting and easier to understand.
At the end of the presentation, Fitchet pulled up a picture of the actor Kevin James as his character on "King of Queens."
"You're not going have a sitcom on CBS where a bumbling idiot with a heart of gold is going to show you how to install solar panels." said Fitchet "This guy (James) drives around and he spits carbon monoxide into the atmosphere. So you need to be the person who does this, you need to be the bumbling idiot in your sitcom."
Nerd Nite was founded in Boston in 2003 by a biology graduate student named Chris Balakrishnan. Since then it has become a worldwide event.
People from Washington, D.C., to Melbourne, Australia, can get connected and engaged with people in their communities to talk about their passions and to geek out.
Vikki Nelson and Matt Gamel, audience members at the Oct. 23 event, have gone to Nerd Nites in Phoenix, Miami and now St. Petersburg.
"It's a date night; we hit one wherever we go," said Gamel.
The St. Petersburg event was hosted by Nerd Night bosses Brandi Askin, Caryn Nesmith and Gerni Oster.
It was Oster's idea to bring Nerd Nite to St. Petersburg, said Nesmith.
"St. Petersburg is always looking for cool things to do. Every bar has a thing they use to attract people, and there are cool bars here. It's not as busy here so you can find a venue," said Oster.
Although you don't have to be a professional in your field of choice, "we want people who are passionate and knowledgeable, something that is based in fact, someone who knows how to research something; there should be some rigor." said Askins
"It is kinda fun to put those people together. People who are experts in their field and people that are just into something," added Nesmith.
For these three women, their favorite part of Nerd Nite is planning the event and sharing it with the community.
"It starts to be the same people that come and you start to know everybody," said Nesmith. "I think it was really fun to be here together and start to have that community around us."
Askin added, "It is fun and community and education and social change. The discussions that people have, where they get excited about new ideas can lead to new things in their lives, it feels like an important purpose."
Nerd Nite at the Iberian Rooster happens at 6:45 p.m. on the fourth Wednesday of every month.