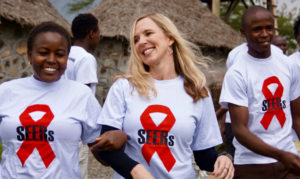 By KIARA SORIANO
USFSP Student Reporter
ST. PETERSBURG – When she was 22, Tiffany Chenneville says, a close friend was diagnosed with HIV – a relatively new disease that at the time almost always led to death.
Now, 27 years later, the USF St. Petersburg psychology professor makes HIV and its impact on young people, including children and adolescents, the focus of her research.
That research has taken her four times to Kenya, an African country with an alarming number of youth who struggle with HIV and the stigma and discrimination that accompany it.
"I think that there is such a stigma surrounding HIV in youth due to history. HIV and AIDS used to be called gay-related immune deficiency disease," said Chenneville.
"People were so scared when they heard about someone having HIV because not much research was available at the time. We've gotten better about learning more and researching ways to help, but I still think we have a long way to go."
Chenneville, who is chair of the Department of Psychology at USF St. Petersburg, is also director of the university's psychology graduate program and a behavioral health consultant at the USF Tampa Department of Pediatrics.
She has contributed to dozens of published studies in her field.
In her dimly lit office lined with shelves of binders, Chenneville welcomes students who seek her counsel on academic issues and conducts her research on how to help youths around the world who are struggling with HIV.
In her research, she is director of the REACH Youth Center. REACH stands for Researching Effective Actions Concerning HIV among Youth.
As director, she collaborates with others around the world on the HIV SEERs Project in Kenya, which stands for Stigma Reduction through Education, Empowerment, and Research.
She calls the program one of the most engaging and enriching experiences of her career.
"I had an incredible time in Kenya," she said. "It was really great to see the sense of community that the country has. Here in this country, we don't see that often, so it's nice to see how different people live around the world and interact."
Chenneville has been to Kenya four times, most recently in August and September. Due to the country's alarming rate of children and adolescents with HIV diagnoses, Chenneville chose to do cross-cultural research there.
Globally, there is a stigma surrounding HIV-positive youth. In 2018, around 1.6 million adolescents were living with HIV around the world, according to UNICEF.
In some parts of Africa, including Kenya, many adolescents don't get the opportunity to be tested for HIV so the numbers could be even higher.
The SEERs project has had success because of its emphasis on getting the community involved, Chenneville said. The project involves four components that work together to improve the wellness of those with HIV – information, skills building, support/resources, and personal contact.
The skills-building part of the program helps victims fight the stigma of HIV. In Kenya, fighting the stigma seems like a particularly hard hurdle.
"In the area that I work in Kenya, people have told me that although they are knowledgeable on the subject, they are scared to speak out because they fear people might think that they have HIV," said Chenneville.
Although the SEERs project has made strides in fighting the stigma and educating the youth on HIV in Kenya, Chenneville has bigger goals in mind and what she wants to do next.
"In terms of my next steps, I want to do another study in Kenya. I'm also planning on partnering with a faculty member at a university in Kenya to take the SEERs project into the prison system.
"Then I have a new collaborator in England who is from Nigeria, who wants to adapt the program to work with black sub-Saharan communities in England."