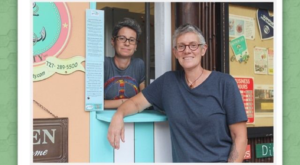 By JOVANNIE BELOT
USFSP Student Reporter
GULFPORT – Whether they are two-legged or four-legged, Let It Be Ice Cream caters to all.
Over the past four months, owners Janet Impastato and Tina Grello have added a new sweet spot to Gulfport.
They traveled much of the world before deciding to settle down and stay in one place. They found Gulfport and fell in love with its old-Florida feel.
"There's a lot of good energy, very diverse, which I absolutely love," said Grello. "In this small town, there's always something to do."
Impastato had always thought of selling ice cream when she retired. She dreamed of riding a bike around town delivering sweets to anyone craving that fix.
Although Impastato may not have done exactly that, she and Grello did stumble upon a space that would end up being Let It Be Ice Cream.
According to the owners, their ice cream bar is one of the smallest shops in Gulfport. The 6-by-6-foot, white and teal shop sits between a real estate office and a restaurant at 2902 Beach Blvd. S.
It is too tiny to seat customers, who are served through a large window and can sit on a small bench about seven steps away.
"Blink, and you'll miss it," said Grello, with a laugh.
Although the shop may be tiny, the options on the menu are plentiful.
Let It Be Ice Cream offers a variety of items for the pickiest of eaters, from its dipped coconut almond bar to its organic mango bars. Grello and Impastato's main goal for their shop was that the whole family could enjoy the sweet flavors of ice cream.
According to the two partners in iced crime, they offer a selection of dairy, dairy-free, vegan, low-sugar, and fruit, as well as "pup cups."
So when Grello and Impastato say that you can bring the whole family, they're hoping you include the furry little brother as well.
There aren't many places in southern Pinellas County that offer ice cream to pets. Let It Be has two flavors for furry friends: bacon and peanut butter or bacon with banana and peanut butter.
Grello and Impastato own dogs of their own, shih tzus named Keel and Bodhi. They wanted to make sure that the ice cream they serve is a healthy option for all pets.
The shop's "pup cups" are actually frozen yogurt that contains probiotics and digestive enzymes made specifically for dogs. Yes, humans can eat this yogurt. Will it be good? Probably not, said Grello, who has not tried either flavor.
Along with the ice cream and yogurt options, Let It Be has a pay-it-forward program that encourages customers to buy an item for the next guest. That way those who may not be able to afford the cold treat can still get a taste.
"In spreading positivity and kindness we hope to inspire others and support those who need it," say the owners on a Facebook post.