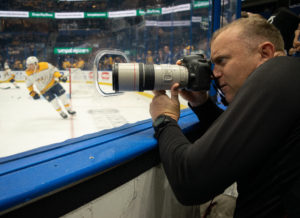 By JONAH HINEBAUGH
USFSP Student Reporter
TAMPA – When he's on assignment, Douglas Clifford is always looking for patterns of opportunity.
Whether it's daily stories for the local section of the Tampa Bay Times or long-term projects like documenting the recovery of a tiny town devastated by Hurricane Michael, Clifford looks for ways to tell each story through his photos.
"I am consummate in being committed to getting to the heart of the story, no matter what the situation is," he said in an email. "I work hard to stay focused on those elements that are most storytelling while remaining open to the unexpected."
The night of Oct. 26 was typical for the veteran photojournalist, who has been on staff at the Times for 21 years, as he prepared to photograph the Tampa Bay Lightning matchup against the Nashville Predators.
His job began as soon as he got to the arena – ideally a couple of hours before the game starts.
After he checked in, he strolled by Lightning players kicking a soccer ball around to the press room, where he met with Diana Nearhos – the Times reporter who covers the Lightning.
Their meeting gave Clifford a good idea of what, and whom, he needed to capture during the game.
"Every second counts," he said. "I'm trying to find storytelling pictures that boil the game down."
Clifford stressed the importance of "front end work" for every assignment. In the case of hockey, every game starts the same: meet the reporter, find an updated roster and prepare captions with relevant data.
His office for the evening consisted of a step stool and a small opening in the glass panels at the edge of the ice. With two Canon cameras strapped around his torso and cookies tucked into his pocket for later, he headed for his seat – or stool, in this case.
Clifford rotated between his cameras with different lenses, depending on where the action was. During the 20-minute intervals between periods, his MacBook was open to upload photos to meet deadline.
If he falls behind, he's left in a balancing act between his camera's viewfinder and his computer.
"As the game reveals itself, I try to document that," he said.
Another key factor in Clifford's work is communication – with Times colleagues, sources, subjects, bystanders.
One instance came when Clifford let two children sitting next to him reach their hands through the opening in the glass to get a practice puck.
"Why not?" Clifford said. "I really cherish the opportunity to interact with our sources, to be able to use visual information to tell stories, to help people feel something through pictures, and to help people experience something familiar in a different way."
Establishing a connection helps him capture photos that elevate stories.
Such was the case in Mexico Beach, the tiny town in the Florida Panhandle that was ravaged by Hurricane Michael in October 2018.
Clifford snapped a seemingly unremarkable photo of people walking down the street, debris on either side of them – a photo that turned into a valuable source for one of the many stories told by him and reporter Zack Sampson.
One of those people was the mayor of the city decimated by the Category 5 storm.
After more than two decades as a photojournalist, Clifford estimates he's covered nearly 10,000 assignments and collected more than a dozen 2-terabyte hard drives to store and archive his work.
His fascination with photography started in his childhood home in St. Louis with a large collection of National Geographic magazines. He studied the photos and was fascinated by the work these photographers produced.
"Pictures give us a license to be curious," he said in an article in the Times in 2016. "I found I can be creative while being grounded by my responsibility to the subject."
One thing has remained consistent in his years of work: being able to adapt to the ever-changing landscape of journalism.
"We are in changing times where social media can be used as a journalism tool, not only for disseminating content, but as a means to anticipate news, stories and elements of any given story," he said.
"A case in point is evident in my partnership with Zack Sampson during our coverage of Hurricane Michael. Sampson was consistently plugged into and farming social media for leads and live information, which revolutionized our decision-making and news judgment in the field."
Mistakes? Clifford has "made them all," he said. But the drive to deliver accurate and captivating news keeps him going.
"Journalism can be a pure meditation on our living condition," Clifford said. "It's about helping people, bringing information to our readers, informing those with honest, balanced, fair and ethical reporting.
"I really enjoy all of it."