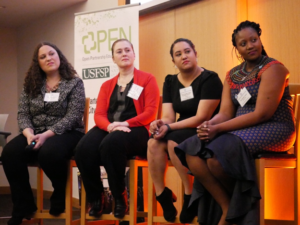 By DILLON MASTROMARINO
USFSP Student Reporter
ST. PETERSBURG – Geologist Penester Tjale recalled a day when she visited one of her secondary schools in her home country of South Africa.
She looked around a classroom brimming with students from grades seven to nine and asked them a simple question: Do you know what a paleontologist is?
No one could give her an answer.
This brought back memories of her high school. Tjale said she never had a female math teacher or a physics teacher who was female and also black.
"I realized these kids need to see someone that looks like them for them to believe it is possible to also become a scientist," said Tjale. "Hence I took it upon myself to go around and do what I do."
As one of the 50 voices speaking across America in the "Hidden No More" initiative, Tjale was one of eight women leaders who spoke at USF St. Petersburg on Nov. 4 about the challenges and triumphs of being a woman in the fields of science, technology, engineering and math.
Inspired by the award-winning film Hidden Figures, "Hidden No More" is a program championed by the U.S. State Department and Walt Disney Co. This initiative is designed to showcase the work and accomplishments of international women in STEM.
Though the women participating in the program are from various countries, they perform similar initiatives of developing and bringing STEM education to young girls and children in underserved areas.
In order to reach younger generations about the professions available to them, many of the women organize programs and activities for students so they're exposed at a young age to the opportunities that STEM education has to offer.
Aurora Villagra Acosta, a high school science and biology teacher in Paraguay, said the first step in introducing STEM education for younger generations is to create spaces for outreach and education on STEM subjects.
According to Acosta, these spaces expose students to the practical application of science in the real world and exhibit the work and collaboration of professionals in various STEM fields.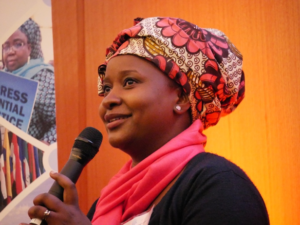 Mariella Galea, mathematics education officer of the Ministry for Education and Employment in Malta, organizes activities for girls and young students to immerse themselves in STEM subjects outside the classroom.
These activities give students the opportunity to interact with professionals who share their work in various STEM fields such as medicine, engineering and architecture.
"These girls need (to see) female professionals in various areas so they can see what STEM subjects can offer them for their future careers," said Galea.
Agne Jogis, a secondary school chemistry and physics teacher in Estonia, said younger students are conditioned to believe science is too difficult.
"The children get that from home," said Jogis. "They feel that they don't know science or chemistry or physics, yet they haven't learned it at all."
In Estonia, when children start learning sciences like chemistry and physics in eighth grade, Jogis said she will begin the year's first chemistry lesson with a question: What do you think about chemistry?
Many of the children believe that it's hard or that they are incapable of excelling at it.
As the year goes on, Jogis implements experiments and activities for students to better understand the curriculum while also breaking down preconceptions about science.
"And as we go on, I'll ask them again. And they'll be like, 'I didn't think it'd be so easy!'" said Jogis. "I didn't have the heart to tell them that it gets harder, but as we go on, they tend to lose their prejudices."
As program officer for the National Science and Technology Council, Nsama Mataka specializes in STEM education for young students in Zambia. Through her STEM initiatives, Tjale focuses on schools in remote areas of Zambia with disadvantaged communities.
"When we first started with the pilot project in the south of our country," said Mataka, "you find you're implementing this STEM initiative in a school where children have never even held a test tube."
According to Mataka, before they began their STEM initiative in the south of Zambia, there had never been any children from the areas who had progressed from primary school to junior high.
After their initiative, Mataka and her team had 13 students involved; six of them girls. One of the girls progressed to one of the best technical STEM schools in the country.
"It was a good feeling for me," said Mataka. "Especially since it was my first… it was like a pilot. So now we've started drilling it out to other districts and provinces."
The "Hidden No More" initiative was hosted by the Open Partnership Education Network, a USF St. Petersburg-based organization that tries to bring the world to the Tampa Bay area. OPEN's mission is to create a smarter, better connected community that learns and grows together.
Partnering with OPEN is World Partnerships, a St. Petersburg-based organization founded in 2000.
World Partnerships hosts global leaders under the U.S. State Department's International Visitor Leadership Program. The program has been responsible for bringing over 200,000 new generation leaders to America, including Margaret Thatcher and Mahatma Gandhi.
World Partnership's collaboration with OPEN has brought leaders and thinkers from around the world to Tampa Bay. Their joint goal is to foster a more connected world through professional and educational encounters.