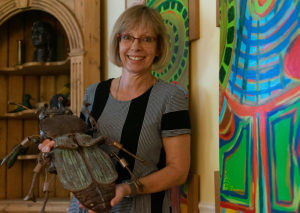 By JONAH HINEBAUGH
USFSP Student Reporter
ST. PETERSBURG – Inside the home of Mary and Anthony Grieco, paintings abounded. They lined the walls, sat propped up on shelves and lay neatly organized in canvas print racks.
One house over, orange arrows directed visitors to the home studio of Nancy Jones, who creates stained glass artwork. Pieces sat unfinished with tools still resting on the work table, giving guests an intimate look into her work.
Those were two of the 13 home studios that were open to visitors on Oct. 19, when the Old Southeast Artist Enclave hosted a self-guided tour.
Two streets away are the homes of Ether Aall and Scott Durfee, who lives with his former partner, George Medeiros.
All three played intricate roles in not only organizing the event but also turning the neighborhood into a place where artists can work out of their homes.
The Old Southeast neighborhood, which lies just south of USF St. Petersburg between Fourth Street S and Tampa Bay, has a variety of house styles, from modest cottages to homes valued at more than $600,000. Many of the residents are renters.
Aall focuses on sculpting and metalwork. Her pieces feature renditions of insects and amphibians.
She moved to the neighborhood from Switzerland in 2016 and learned about the neighborhood's designation as an artist enclave.
"I should probably check (the enclave) out and see what has been done or what I can do," Aall recalled saying. "So I started to talk to people in the neighborhood and I said, 'I would love to bring this alive.'"
The enclave mirrored the one in the Historic Kenwood neighborhood, which was already thriving when Durfee began seeking the same designation for the Old Southeast.
Durfee and Medeiros moved there in 2003. Their home, which they've dubbed "Spathose," doubles as a studio where they created jewelry from recycled material, dresses and paintings.
In early 2010, Durfee said, there was a push for art initiatives in the city. That meant Spathose was allowed to become a studio as well as a home.
By 2014, both the Old Southeast and Historic Kenwood were designated "Artist Enclave Overlay Districts" by the city.
According to St. Petersburg's municipal code, artist enclaves "encourage a mix of small-scale, home business uses oriented toward or supporting the visual, performing and cultural arts, while maintaining the residential character of the underlying residential neighborhood."
The city code also says that these enclaves are normally established within "single-family residential neighborhoods where artists may live, create work and market their art."
To become an artist enclave, at least two-thirds of residents in a proposed district must give their approval.
Durfee said he worked closely with members from the Historic Kenwood Artist Enclave when he established the enclave in the Old Southeast.
"This proposal was going to help all artists in St. Petersburg by bringing more attention to the already ever-growing artist movement," Durfee said.
But then Medeiros and Durfee halted their partnership, leaving the enclave inactive and without leadership.
It stayed that way until Aall took over and began reorganizing.
"I had visited Historic Kenwood, and I knew what they were doing," Aall said. "I thought, OK, we could do that, too. I actually started to recruit people and started to bring them over to do meetings here. I got people who are interested in the artist enclave and let them know that we are planning to start making these events happen."
Her goal was to model tours after the tours in Historic Kenwood, but the push to organize events was tricky.
Some skeptical residents supported the first petition several years ago but feared it would get "too big, too soon" and fizzle out once again.
"They were very skeptical, especially people who were part of the petition many years before," Aall said. "They said, 'Oh, this is not gonna work out,' and 'Don't make it too big too soon.'
"I have a vision. I wanted to bring it to this point. I said, 'I'm just going to go for it and whoever comes on board comes on board and who doesn't? I'll do it.'"
First was finding funds for the supplies that were needed for the tour. Her idea was to hold a logo contest. After a winner was chosen in June, the logo designs that were submitted were auctioned off.
The group also set up at the Old Southeast Market at 1700 Third St. S at least once, allowing artists to put their work up for sale. This helped secure flyers, balloons, maps and signs for the group's first event.
"I think something like an artist's enclave in a neighborhood takes time," Aall said. "I'm thinking back to Historic Kenwood because I think at the beginning they had a hard time bringing it up to speed, and now they have been around five years."
What seems most important to her is showcasing the talent of all artists spanning the city's five arts districts, museums, enclaves and outsiders.
"I think there's space for everyone," she said. "If they bring people from the outside in, it gives exposure to what lies beyond us.
"Creativity goes beyond borders, so there's no border for only St. Petersburg. I think we should be open to everything."