By Emerson Taylor
SAINT PETERSBURG – Downtown St. Petersburg is a center for art and culture, and the Morean Glass Studio is a spot for artists and visitors to view demonstrations and the products being sold.
Despite the fact that consumers utilize glassware nearly every day, glass as a medium for art is relatively recent in the American glass movement. According to the History of Glass, glass blowing dates back to the 1st century B.C. in Syria, but new techniques developed in the 1820s updated the process by mechanically pressing heated glass.
There are a variety of art collections and art workshops that any visitor should see when visiting the Tampa Bay area. Whether you want to go to the Hot Shop or the Dale Chihuly exhibit across the street from the studio. Jewelry-making, metal sculpture, mixed media, painting, photography, printing and more are all available to the public to take at the Hot Shop.
Bao Thao, the shop's store manager, who has been there for four years gave an exclusive interview on the studio. Thao is a professional artist that worked as an independent contractor up into a position at the glass studio.
Thao pursued a degree in glass blowing at the University of Wisconsin Madison and longtime friend Matt Evanbrock introduced her to the Arts Center. Thao, at the time, was living in Alaska because of her position in the AmeriCorps. She had never heard of St. Petersburg and moved.
Being the "studio b****" for a year and a tenacious worker eventually landed her a full-time job as the retail store manager. Thao frequently uses the furnace and equipment, her art is even featured inside the store.
Why should people come to the Arts Center?
Thao: "People think that glass is a very mysterious, like a magical medium.. The American glass movement is very young," she said. "It's really interesting to see how glass is made, especially if you have no history with it. You don't understand all how it works, but we use glass every day… To have a place like an art center like this, where we have those resources to teach people about this medium that we use every day, is also really helpful,"
What is something about glassblowing that the average person probably would not know?
Thao: "You cannot master glass until you have over 10,000 hours or so of working with glass… It is very difficult to work with," she said. "In the beginning classes, when I was teaching glassblowing, it was very intense and intimidating. The furnaces are 2000 degrees, so once you get used to that, and like, you know, you can start to form your bubbles and shape it, and it takes a lot of time. It takes a lot of time to actually really master the craft.
Why is art important to society?
Thao: "Art is a way of documenting our culture. Everything that we consume and use is artistic, everything that we use is artistic, even engineers and architects have created, so there is an art form to it. Everything is art it is and so, to be interested in art, to collect art, is collecting a piece of your own history and collecting a piece of our future as well."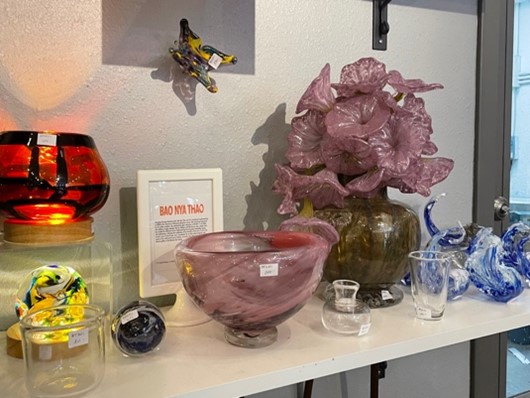 Whatever your interests are, Morean offers something catered for you. There are classes and exhibits for everyone, whether you want to learn how to manufacture an ornament or just admire Dale Chihuly's work.
USF St. Petersburg student, Sierra Laico, is a guest services associate at the studio. Laico stresses that her job has transformed into a learning experience for her. The Morean gives artists and those interested in art a place to come and enrich their minds.
"I've learned how much work they put into creating something—I consider myself lucky to work alongside some of the most hardworking and talented people in the city," she said.
Visit:
The Chihuly Collection, Morean Glass Studio and the Arts Center are open every day from 10 a.m. to 5 p.m. Visit today at Central Avenue and Eighth Avenue and discover the interesting world of glass blowing.