Prospective cyclists are finding a lack of bicycles and a scarcity of repair parts due to the global supply chain crisis and hyperinflation.
By Matthew Lee
ST. PETERSBURG, Fla. —The global supply chain and hyperinflation issue has increased both goods and professional services, and the bicycle industry is no exception to the worldwide economic phenomenon.
Since the height of the COVID-19 pandemic, people across the United States were urged to social distance and to stay at home to prevent the spread of the virus. Individuals took advantage of the situation they were dealt with to invest in new hobbies and extracurricular activities, resulting in people purchasing bicycles for exercise and enjoyment.
According to cyclist mechanic at The Bike Room, Bailey Arnold, the shop in St. Petersburg saw a decrease in business when the pandemic started.
"Midway through the pandemic, we noticed an increase in business because people wanted to go outside during lockdowns. It seems people remembered what it's like to enjoy outside" Arnold said.
The market for purchasing bicycles and issuing repairs is slowly improving, but many bicycle shops are issuing wait lists for both purchases and repairs.
"As of right now, we are not issuing waitlists since we are unable to acquire new bikes for customers, so we are just sticking to repairs," Arnold said. "Due to the current supply chain issues, bicycle manufacturers are trying to accommodate bike shops by giving each a fair share of bikes to sell to customers. When it comes to issuing repairs for customers, individuals who use their bicycles as their main source of transportation are priority repairs over causal riders."
To adapt to the rise of inflation and increase business, The Bike Room instated a mobile mechanic truck to drive out to events and issue repairs by bringing the repair shop directly to their customers across the St. Petersburg area.
In a combination with the constant influx of new people moving to Florida every day and the rise in gas prices, some bike riders are opting for more bicycle riding to avoid the harsh traffic and to save some extra money.
"The recent increase in gas prices and inflation absolutely motivated me to use my bike more," said University of South Florida student, Peyton Lebron.
"Whether or not I prefer biking as my main source of transportation really depends on where I'm going and what I'm doing, and if I have any cargo that can't fit my backpack. I also have to rely on my car to get to my job and internship in St. Petersburg due to my home being an hour away
by car. I tend to try and only use my car as a last resort, especially due to its age and gas prices." Lebron said.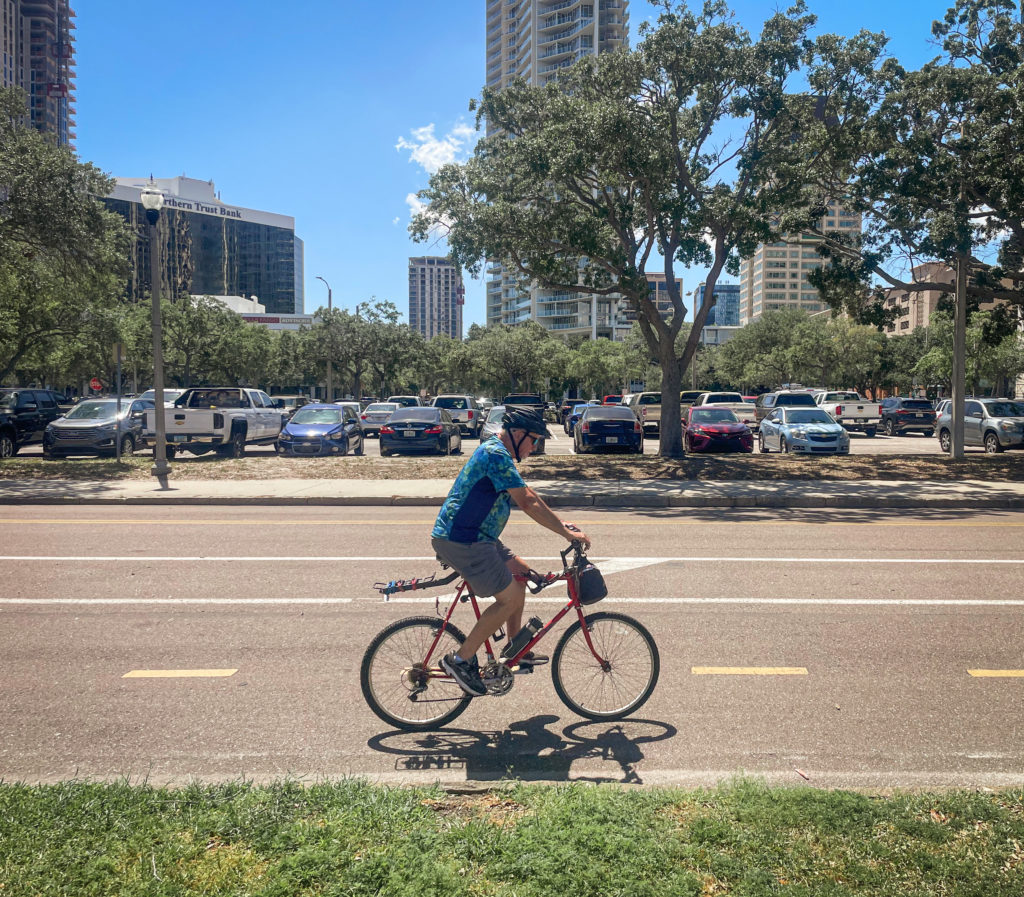 If you're considering purchasing a bicycle or riding more frequently to save money on gasoline, please comply with bicycle safety regulations and learn tips to prioritize safety by reading bayfront health's article on how to stay safe on your bike at https://www.bayfrontstpete.com/content-hub/bicycle-safety.