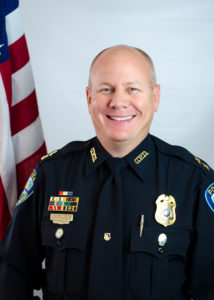 By EVY GUERRA
USFSP Student Reporter
GULFPORT – When he was 8, Robert Vincent and two other young troublemakers were caught throwing rocks and breaking windows in Pinellas Park. They had busted every window in two houses that were under construction.
It was an embarrassing moment for the chastened youngster, who got a stern lecture from a police officer.
"I got my nose clean after that," Vincent said. "I didn't hang out with anyone who did that."
Later, as he chose a career path, he thought about that incident and the other two boys. One ended up in prison. He wasn't sure what happened to the other but knew it probably wasn't good.
"What if I could have an impact on another young person straightening themselves out?" Vincent asked.
Thirteen years later, in 1994, he became a police officer himself, joining the department in Gulfport, a city of 12,500 not far from the place where he was caught breaking windows.
It was the first step in a law enforcement career that led in 2010 to his appointment as chief of the department, which has 32 sworn officers, eight civilians and a budget of $3.6 million for the 2018 year.
In Vincent's early years at the agency, it was a place where many things seemed to be broken.
There was a U.S. Justice Department investigation into allegations of racism and incompetence in the arrest of a young, mildly retarded black man. Complaints from residents that some Gulfport officers were sexist and racist. An embarrassing episode when a department veteran misplaced a resident's complaint against another officer.
In 1998, the St. Petersburg Times summed up the department's woes in a lengthy analysis headlined "Gulfport tries to polish badge's tarnished image."
Today's department is far more professional and progressive than the agency of the '90s, said Vincent, 45.
The problem officers are long gone, he said. The department is accredited by the Commission for Florida Law Enforcement Accreditation – which requires compliance with more than 250 professional standards. And the agency takes pains to listen and act on residents' concerns.
Vincent emphasizes communication. In 2010 he created a blog to inform the community about how the department spends its budget and encourage discussion on issues like the use of police body cameras.
He also likes to spend an hour each day out in the community speaking with business owners, residents and tourists.
"My belief is that this police department owes more to this community than to simply answer your calls," Vincent says on the department's website. "We must be, and will be, an integral part of Gulfport."
In an interview, the chief said he is "absolutely confident" the problems of the 1990s "couldn't happen today."
But he keeps a link to that 1998 Times analysis in his laptop to remind himself of the department's darker days.
Vincent grew up with his mom, older brother and younger sister in Pinellas Park. But when he was 14 his mother died from a heart attack.
"That was a tough time," Vincent said. "I don't know how it happened, but the judge appointed my brother to take care of us."
His brother was only 18. All three siblings had to grow up quickly.
"A lot of going through that played a big part in who I am today," Vincent said.
He graduated from Gibbs High School in 1990, the same year he became an Eagle Scout. Then he was off to Florida Southern on an ROTC scholarship. Plan A was the military.
When that fizzled, he went to Plan B, graduating from the police academy before joining the Gulfport department in May 1994 as a patrol officer.
Over the years, he moved up the ranks – patrol officer, school resource officer at Boca Ciega High School, patrol supervisor, then commander of the patrol and investigative services divisions.
Meanwhile, he was earning a bachelor's in professional writing at USF in 2000 and a master's in criminal justice administration at USF in 2008. He attended the FBI National Academy in 2006.
Since Vincent has dedicated much of his life to police work, his first piece of advice to new officers may seem surprising.
"It's important to have a life (outside policing) when you're in this business; I tell all the new guys this," he said. "If this is your (whole) life, then you will take everything personally. If you start taking it personally, then you will react unprofessionally."
For this reason, he said, he makes sure to follow his own advice.
When people say, "I hate the cops," it doesn't bother him, he said. "Well, I don't care if you hate the cops because I'm not a cop, I'm me," he said. "My job is not me."
Vincent's tenure as chief has not been without controversy and embarrassing moments.
In 2012, one of his officers chased a stolen car through the city and onto Interstate 275, then into St. Petersburg, where it hit a bus that then crashed into an apartment building.
Two people in the car were seriously injured, and several bus passengers required treatment. When he arrived at the scene, St. Petersburg Mayor Bill Foster sharply criticized the Gulfport's officer's decision to give chase.
"That pursuit wouldn't have been authorized" under the St. Petersburg Police Department's chase policy, Foster told the Times.
Vincent still defends his officer, noting that the officer followed department policy, which "was in line with what the Gulfport people wanted at the time."
Gulfport's policy is different now, Vincent says, but not because of the 2012 incident.
Three years later brought another embarrassing incident. The chief's unmarked cruiser went missing from the driveway of his home in St. Petersburg.
Inside the vehicle, the Times reported, were two bags of police gear, disposable handcuffs, a riot helmet and a police jacket.
Luckily, police soon found the cruiser, which was abandoned after a 16-year-old and two younger accomplices realized the car they had stolen was a police vehicle.
Vincent and the Gulfport department were "the brunt of several jokes because we're the ones always preaching to lock your car," the chief said.
Although Vincent got his cruiser back, he was not happy at the way the theft played out in court.
The 16-year-old pleaded guilty, served time in a program, and then, according to the Times, went to a restitution hearing to see how much he owed the chief and the city.
There, to Vincent's dismay, the judge told the teenager that it probably wouldn't matter if he ever paid the $800.
Vincent said he wrote the judge to protest and they later talked on the phone. "She has her opinion, I have mine, and we don't agree," he said.
The case speaks volumes about broader problems in the juvenile justice system, the chief said.
"The juvenile system has a lot of improvement that could be done," he said. "Essentially the theory right now is that it's the parents' responsibility to discipline their children, but there are a lot of children who don't have parents to step in or who won't."
"If the juvenile system won't step in, then who will?"
Vincent knows all too well that many children don't have strong parental figures in their lives.
That's one of the reasons that when he makes his daily rounds in the community, one stop is a fixture in his routine: Boca Ciega High School at dismissal time.