By Edyn Gottlieb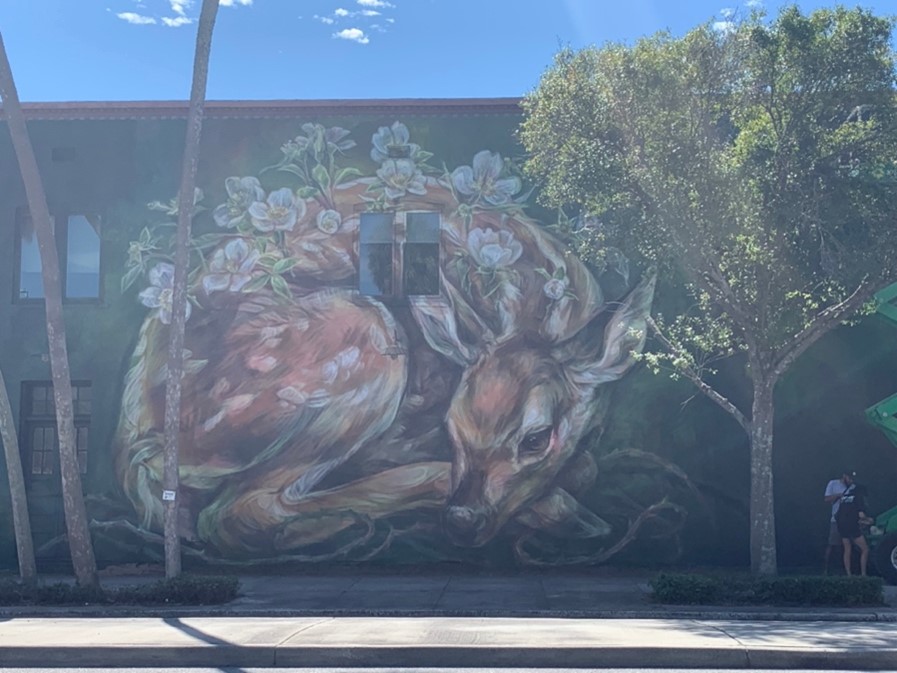 The annual SHINE Mural Festival returned to St. Petersburg for the seventh year, adorning the city's arts district with 16 new murals.
SHINE is committed to uniting and transforming the community by converting public spaces into outdoor galleries with a diverse collection of artists.
The festival ran from October 15-24 and was produced by the St. Petersburg Arts Alliance, a nonprofit that started the event in 2015.
Over the past seven years, SHINE has brought over 100 murals to the city.
SHINE attracts the best mural artists both locally, and from across the globe. This year, artists traveled from as far as Germany and Columbia to participate in the nationally recognized festival.
Auraileus, a St. Petersburg native, was ecstatic when he was selected by SHINE to be an artist in this year's festival.
"I've always wanted to participate, I am really trying to be a famous artist because I love art and I really like to eat, so I can't be a starving artist," Aurailieus said.
Auraileus has been a part of the local art scene since before SHINE began.
Prior to the festival, there was already a growing mural movement in the city, but Aurailieus feels that SHINE was able to take the movement to the next level.
While this is his first time participating in the festival, Aurailieus has adorned the city with several murals over the years, many of which have been painted over or lost to history.
Aurailieus's work is colorful, creative, and imaginative and uses a combination of fine and urban art. For Auraileus, inspiration is not hard to come by.
"I am an inspiration sponge," Aurailieus's said. "Maybe it's ADHD, maybe it's how rampant capitalism and advertisements bombard your brain with thirty thousand images a day, but everything is everywhere all of the time. You can drag a spoon through the air and eat delicious inspirations soup."
Aurailieus's mural can be found on the Zen Art building at 600 27th St. S. Auraileus hopes that when people visit his mural they will stop and, in that moment, feel happy they are there with whoever they are with.
Artist Emily Ding traveled from Texas to participate in SHINE. She has been painting murals for almost five years.
Ding was thrilled when SHINE reached out to her with an invitation to participate in the festival. She has wanted to paint with SHINE since she first learned about the festival in 2018 when she drove through St. Petersburg on her way to Miami.
In her art, Ding strives to portray emotions and experiences for the viewer with bold colors and expressive creatures. Her mural depicts a fawn surrounded by foliage.
"The tree in front of the building gave me the most direction for a design," Ding said. "The tree blends in very well. I'm aiming for a feeling of tenderness and growth."
Ding's mural can be found on the Rob Graham Enterprise building at 100 7th St S.
The festival also brought three community "Bright Spots" murals to the area, which are intended to engage and inspire the community. This included a week-long, mural-making tutorial led by Tampa-based artist, Jujmo.
Jujmo worked with the children in the Shirley Proctor Puller Foundation art club, a program designed to close the achievement gap for students in South St. Petersburg, to give them hands-on experience making a mural. Six days into SHINE, Jujmo felt the festival was an experience like no other.
"My favorite part so far has been the full immersive experience of hanging with the artists and being a part of something really special for St. Pete," Jujmo said. "The whole staff has worked tirelessly to create an amazing atmosphere for us, and it truly is an honor to be a part of SHINE."
Jujmo's mural can be found on the A-1 Recovery building at 2221 5th Ave. S.
While this was many artists' first experience with SHINE, others have been a part of the festival since its inception.
Chad Mize is a multimedia artist, designer and muralist and was an artist at the first SHINE festival in 2015. For the past three years, Mize has worked on the curation side of the festival and is part of the team that selects which artists will participate in the annual festival.
In 2018, Mize opened the MIZE Gallery in the Historic Uptown neighborhood. On Oct. 22, the gallery hosted an exhibit that featured 77 artists and celebrated the conclusion of the seventh SHINE Mural Festival.