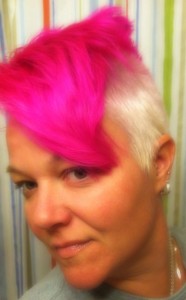 My name is Karlana June.  I am a writer, advocate, student, peacemaker, artist, activist, gender fluid-pansexual-lesbian (I dislike labels, but find they are important in fighting for gender equality, so I will use them here), empowerment teacher, photographer, music junkie, storyteller, dog mom, public speaker, rebel, feminist, survivor, and woman.  This space is for MY VOICE, to give others a voice, and to share the trials, tribulations, and triumphs of life.
Writing is part of my soul…the reason why it is listed first.  It is engrained in my psyche like the sticky marshmallows in Rocky Road ice-cream. Before I was physically able to write I would daydream and concoct stories in my head. There is still a lot I do not remember about my childhood but I fondly recall vividly constructing stories in my mind. It helped me cope with the circumstances of my young life, to discover a better, more harmonious and peaceful existence through my imagination and 'story-telling'. As I got older and learned how to put the alphabet into words, my stories began tumbling out on paper.
A survivor of incest, two rapes and domestic violence, I struggled to find my way. Until nearly age 35, I did not know how to speak up for myself, declare my truth, or tell my story. I always knew I was a writer and story-teller but in what capacity? My humanistic desire to advocate for others has consistently lived inside me, but how to utilize my writing passion to do this was a conundrum. My constant yearning to know just what I was supposed to write for the world came after I found my voice. The vision of my future purpose was revealed to my inner-consciousness that I am supposed to be, unequivocally, an advocate for women, girls and more recently for the LGBT community .
Discovering my voice, perhaps the way I imagine a young robin finds her song; I was elated and frightened all at once. I quickly realized the importance of making my voice louder, amplified. And as this realization came, so did the painful one, the notion that a lot of people (including my biological family) did not want to hear my voice, story, or truth; specifically the revealing of the horrors and trauma of my childhood. The most incredible transformation began to occur with these integral notions; an instinctual motivation and yearning to be louder grew, to the degree that it physically hurt if I did not continue to speak up for the wrongs done to me at the hands of my father and other men.
In sharing my personal journey outwardly, I have healed deep wounds in my soul and flowered in wholeness as a human being. Now I know that telling my own story is empowering others to tell theirs. The thirst to be of service to others is quenched in the reality of being an international writer, journalist, photojournalist, and story-teller, advocating for women and human rights. The ultimate healing power will come discovering brave female stories through research, interviews and immersing myself in the lives of my subjects, finding depth and direction in my writing. It is imperative to have the biggest voice possible. With my degree in Mass Communications – Journalism Media Studies (that I am working on now!), I have a plethora of platforms to not only make my voice the loudest, but also give others that opportunity. I am woman…HEAR ME ROAR!
May the world be filled with PEACE, LOVE, LAUGHTER, AND KINDNESS.