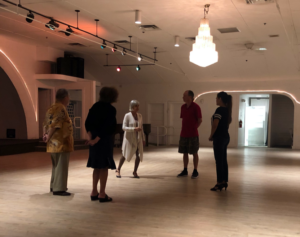 By BRIDGET BURKE
USFSP Student Reporter
GULFPORT – In the ballroom of the historic Gulfport Casino, four chandeliers and a disco ball shine brightly from the ceiling as couples below learn to shake their hips and move their feet to the beat of the faint salsa music playing in the background.
The 5,000-square-foot, 90-year-old, solid-wood dance floor is a perfect place for instructor Carol Rivera to hold her weekly Latin Night.
Every Thursday at 6 p.m., Rivera breaks out her dancing shoes for salsa, bachata and merengue lessons. She has been instructing students in the Gulfport area for nearly 15 years and loves sharing her passion for dance.
As Rivera instructs her beginners, she explains to them that it's not the steps that matter, rather the way you dance from inside.
"Everything comes from your soul," Rivera said.
Many of the students share Rivera's love of dance.
Sipping cabernet in the corner, first-time attendee Carmen Alduende removed her jacket and got ready to salsa.
A native of Puerto Rico and a former resident of Japan, Alduende is no stranger to Latin dancing. She loves to show off her "beautiful skinny legs" during the tango, the dance of passion.
As a military wife with a daughter in the FBI, Alduende dances as if she has no cares in the world. While her family remains rather proper, Alduende said, all she wants to do in life is have fun.
"I love life and I love myself," she said.
Alduende's partner for the night, Canadian snowbird Hart Watt, has also been dancing his whole life.
Watt has been surrounded by music since he was a band boy just outside Barrie, Ontario, at the age of 14.
After he helped the band set up, Watt would watch as wives and daughters danced alone, and he began to notice the lack of men on the dance floor. Once he stepped out on that floor, he said, he never looked back.
"I discovered that girls like guys who can dance," he said.
He attends classes in Gulfport at least three times a week and goes to other dance classes around the area. Watt finds that dancing helps relieve his chronic back pain and helps him celebrate the memory of two lost loves.
His 78th birthday is just around the corner, but Watt said he intends to keep right on dancing.