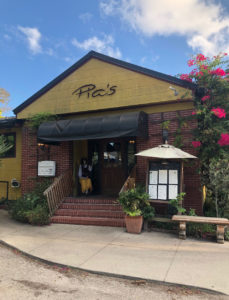 By ASHLEY CAMPBELL
USFSP Student Reporter
GULFPORT – In a city known for fine dining, Mayor Sam Henderson can eat at lots of good restaurants.
His favorite? Pia's Trattoria, an Italian place at 3054 Beach Blvd. S.
"Fresh tomato bruschetta – it's just an appetizer, but it's my favorite one," said Henderson when asked to name his favorite dish.
Pia's Trattoria – or Pia's "eating house" in Italian – has accommodated diners like Henderson since it opened in 2005.
After working in Venezuela as a chef for three years, Pia-Maria Goff, the owner of Pia's Trattoria, met her husband. They moved to Italy, where she grew up, then to Germany, and then finally to Florida.
Although they planned to move to Sarasota, they fell in love with Gulfport and Pia's opened shortly afterward.
Goff said she had become homesick for authentic Italian food and decided to open her own restaurant. At first, it was just her, a prep cook, a few tables and a small kitchen.
But the idea of the restaurant was simple: Serve authentic Italian food in an old Italian style.
Goff's Italian recipes are derived from her family back in Pozzuoli, a metropolitan city near Naples, she said.
"Whoever enters this door is like a friend of mine," she said.
Pia's expanded about five years after opening, but its formula has never changed, said Goff.
They never use anything processed, frozen or already done. They make everything in house and always use fresh ingredients, including herbs they grow themselves, she said.
"We still to this day will not take any shortcuts," said Goff.
Goff tailors her food to the needs of her customers, she said. While the original family recipes never vary, one section of the menu changes biweekly.
An entrée that Mayor Henderson likes is mutton, a special he once tried.
"Kind of a peasant dish, but it's fantastic," he said.
Goff noticed customers requesting vegan, vegetarian, and gluten-free items, so she adjusted the menu to fit those needs and keep the customers happy.
She changes this portion of the menu, to keep the food interesting and take advantage of fresh, seasonal ingredients, Goff said.
"I've never had anything here I didn't like," said Cissy Poirier, a Gulfport resident and frequent diner.
Poirier ticked off menu items she loved, including the lasagna, which Goff said is the most popular menu item. She likes the restaurant for the ambience, but mostly the great food.
On TripAdvisor, the popular travel and restaurant website, Pia's has drawn plenty of positive reviews. Of the 715 diners who commented, 601 rated the restaurant "excellent" or "very good."
"A hidden gem," said one satisfied diner. "Rustic yet hip," said another, and "a great find," said a third.
Among the less flattering assessments was this: "No AC and it's like eating in a basement."
Pia's has a history of violations in state restaurant inspections.
Five times since 2013, it has been slapped with warnings that required follow-up inspections, and twice – in August 2018 and December 2013 – it was temporarily closed and fined $400.
In the 2018 inspection, the state found rodent droppings in several places and "potentially hazardous" temperature controls for food.
According to the state's latest health inspection report on Sept. 18, 2019, Pia's met state inspection standards.