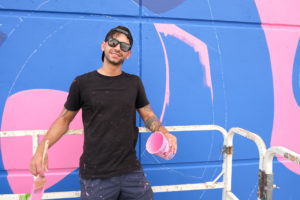 By EMILY SISELL
USFSP Student Reporter
ST. PETERSBURG – As a young teen in Colombia, Leo Gomez dodged the authorities to paint graffiti on the sides of railroad cars.
Now, as a U.S. citizen, he makes a living doing commission-based art in St. Petersburg.
His latest creation was a 135-foot-long mural titled "Sunshine on my Mind" on the side of the Ice House of St. Petersburg at 1955 Third Ave. S.
Gomez found artistic inspiration from hip-hop culture in the '90s. On his website, he describes himself as "a hand lettering artist, muralist, and all around lover of hand craft art."
He says he is passionate about "keeping the sign craft alive, transforming boring walls into inspiring spaces and boosting engagement with bright and colorful designs."
His clients, he says, have included Starbucks, Publix, the Body Electric Yoga Co., the Hollander Hotel and the Love Food Central café.
This was the first year that Gomez, 28, participated as one of 16 artists in the annual SHINE St. Petersburg Mural Festival in October.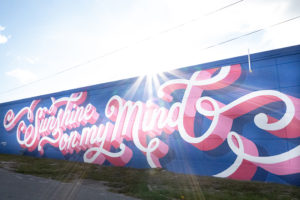 The event was the fifth annual campaign to cover some of St. Petersburg's drab buildings with inspiring street art. It is part of an explosion in so-called public art around the country in recent years.
As the years have gone by, Gomez found himself wanting to create larger pieces. That led to this year's SHINE festival and his biggest paid painting yet.
Gomez said he had complete artistic freedom to create his colorful mural.
The festival started with three rainy days so Gomez had to put his brush down. And when sunny days returned, he ran into a different problem when his lift stopped working temporarily.
He spent the remainder of that day working on areas he could reach from the ground.
Despite the challenges, Gomez still finished on Oct. 26 as expected.
Difficulties like this make it worthwhile in the end, he said. "The most happiness is brought when I see how people react to my art."
He has always lived with the determination to get his art on the streets.
"Fear is just a thing in our minds," said Gomez. "It's something we create ourselves, and if other people can do it, so can you."