By DECKER LAVELY
USFSP Student Reporter
GULFPORT – In a small backyard in Gulfport, a smartphone streams live as a barefoot, spirited resident interviews guests and spreads what she calls the city's "magic."
This is "The Laura Shepherd Show"—an internet series dedicated to sharing good news and work in the Gulfport community.
On a recent Sunday, a dozen audience members sat on a patio in assorted outdoor chairs surrounded by greenery. The words "The Laura Shepherd Show" were written in colorful chalk across a garage door in front of them.
The 58-year-old host opened the episode with a smile and her original theme song.
"Something's gonna happen and it could be good…something's gonna happen like we knew it would," Shepherd sang while strumming on her mandolin.
The project was started by Shepherd and her neighbor Treeona Hill, 35, in September 2018. They were looking for something to do and decided to create a show that promotes positivity "because the world needs more good news," Shepherd said.
The duo shares the "good news" by inviting a musician, a nonprofit and a small business owner onto each episode. The show lets internet users learn about happenings in Gulfport without leaving their homes.
It broadcasts every other Sunday on Facebook with a live audience sitting behind the smartphone camera.
"I'm tired of bad news and I think it's great to talk about things that make you feel good," Shepherd said. "For one hour every other week we can feel good and let other people feel good and shine."
Throughout an episode Shepherd interviews each guest about their music, nonprofit or business.
She welcomes live performances from her musical guest and shares her original songs like "Bushel Basket," which Shepherd said is about putting your troubles in a basket with holes and letting the sunshine through.
Her previous episodes have had guests like Gulfport Mayor Sam Henderson, singer Rebekah Pulley and the local band TrenchFoot Shindig.
"Gulfport is magic. It's a magical community where there are so many interesting happenstances," Shepherd said.
She is a musician who performs at local events like Geckofest and the Blueberry Patch, but she hasn't always been a singer and songwriter.
Both her parents worked for the U.S. Army, and Shepherd was born in France at the American Hospital of Paris. Her father was a history teacher and her mother worked in art and design.
The family moved to Arlington, Virginia, when Shepherd was in the third grade and she studied studio art at Mary Washington College in Fredericksburg.
There, she founded a nonprofit called Downtown Greens, a community garden that still operates. Her life also took her to travel across continents like Europe and countries like Costa Rica and New Zealand, as a part of a work exchange program.
Though she dabbled in music as a child, it wasn't until Shepherd was 40 that she decided she could perform and record music.
"It took me a long time to be able to perform live without being terrified. I made a New Year's resolution to play music with another human being every single day when I was 40, and then the next year I made a resolution to perform at an open mic twice a week…," Shepherd said.
"After performing out twice a week I got much better at it. I still do get nervous even before this show but I try not to give that too much power."
Shepherd relocated to St. Petersburg in 2012 to care for her mother after her father died. Later she moved to Gulfport and has been in love with the city ever since.
"I love Gulfport; if you're too weird for Gulfport, you're just too weird," Shepherd said.
The host, now retired, works occasionally on local film and commercial sets and with previous clients and gardens from her time with Downtown Greens.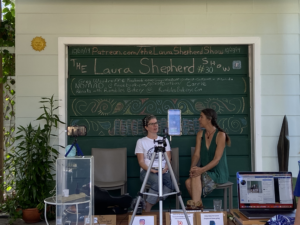 The "Laura Shepherd Show," now in its second season, marked its 30th episode on Oct. 20. The episode featured local musician Greg Woodruff, Carrie Boucher of the NOMAD Art Bus and Renata Augaitis, owner of Rumbles Bakery.
"If I lived within a few blocks from here I would be sitting here in the audience for every show. You don't know what you're going to discover and learn," Boucher said.
Shepherd said her viewership and audience members have grown since the start of the show. The 30th episode even had a viewer comment from New Zealand.
"It's like hanging out with your friends, but you're learning about different things that are going on in the community and you're supporting each other and laughing," said first-time audience member Lauri Zavala.
Shepherd said she hopes her show will continue to grow in viewership and one day be profitable by increased pledges on Patreon, a service that helps creators provide content in which viewers can subscribe.
She also aspires to produce an episode every Sunday in the future when more people are eager to donate and be guests on the show.
"I think everybody likes to be recognized, people leave here happy they have been on the show…," Shepherd said. "If you leave here happy, maybe you run into the next person happy and it just ripples out. Ripples of happiness, let's do good and be good."
Since its start, the show has gained more than 700 likes on Facebook and has hundreds of views on each episode, sometimes even reaching 1,000 viewers. It can be viewed live on Facebook every other Sunday at 11 a.m. It is also available on Apple Podcasts and Patreon.
The show also encourages live audience members who can request the address through Facebook.