By Sierra Laico
ST. PETERSBURG—In a city known to locals for being progressive and passionate about social causes, it is no surprise that the city is home to Allendale United Methodist Church (UMC), a church that welcomes all walks of life.
A congregation like this requires a revolutionary leader—and they found one in Reverend Andy Oliver.
Oliver, 42, has been the Senior Pastor at Allendale UMC since 2016. Born in St. Petersburg and having grown up all over the state of Florida, he returned to his birthplace after his years of social justice work, including doing grassroots organizing in Chicago.
His journey to get to where he is now was not uncurving. After attending seminary school at Duke Divinity School, he served two United Methodist Churches in Fort Lauderdale and Lakeland. After that, he felt he was not serving in the way he was supposed to—so he left to become a bartender. While bartending, he met a community organizer, who told him he was going to make an organizer out of Oliver. They protested Republican presidential nominee Mitt Romney and he joined in the efforts of legalizing gay marriage, among many other efforts.
In 2012, he took a job in Chicago as communications director for the Reconciling Ministries Network, a network United Methodists organized for full inclusion of the LGBTQ+ community. And four years later, Oliver was appointed to Allendale—a church that was experiencing nearly 50 years of decline.
He turned the church around almost immediately. Oliver told the Tampa Bay Times in 2020 that "the church had nothing to lose. We embraced the urgency. I practiced ministry without fear."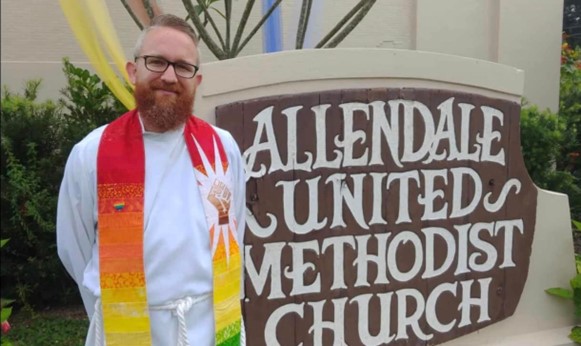 Since he became pastor of Allendale, the church has become involved in various community outreach projects and social justice movements such as immigration rights, farm workers' rights, rights for the LGBTQ+ community, women's rights, and the Black Lives Matter movement.
In a recent post by the Allendale UMC Facebook group, the church celebrated Oliver's seven-year anniversary since being appointed as pastor of the church.
The flooding of over two dozen congratulatory comments spoke volumes about how valued Oliver is by the community.
"Great news! We started going back to church because of Andy," Allendale UMC church-goer Ed Lally said. "Not afraid to speak up about injustices here and around the world."
Despite the agreeable community that has been formed within Allendale, the subheading on the church's website reads "A community of seekers, followers, and doubters." With this, Oliver and members of the Allendale community embrace skepticism and doubt, too.
"Skepticism, questions and doubting—those things are welcome. I think those are a part of one's faith. We want people to question and to ask questions. We have a lot of people who are part of us who are atheists," Oliver said. "We're all on a different point on this journey and trying to figure it out together, and we can best figure that out in community with each other."
When skepticism and doubt are discussed regarding Christianity, criticism of the church arises when arriving at the topic of the Christian church's decades-old, overarching intolerance of the LGBTQ+ community, abortion rights, and other progressive ideals. However, Allendale UMC places great emphasis on supporting community outreach projects and progressive values.
"This church and community [are] a blessing and what all Christian churches ought to strive for," said Jen Lamont, a member of the church's Facebook page.
Not only do skeptics arrive in the form of individuals, but they also present themselves as neighboring churches. While Allendale pairs with other churches in the Tampa Bay community, they have run into opposition from other congregations about certain things the church believes. Oliver says that although the church may receive pushback at first, it does not always stay that way.
"[The church Allendale partners with on a community project] might not be a church that is fully welcoming to LGBTQ+ people, for example," Oliver said. "But because they get to know us working on housing, they start to realize that they might be wrong about the LGBTQ+ community. We start to see some growth."
When asked if Oliver had anything he would say to someone that is interested in joining Allendale's community, he has a simple yet fruitful answer.
"Allendale United Methodist Church is a community that is open to all people who want to be in community with other people who are trying to figure out life, and to work together in solidarity for liberation of all people," He said.