A friendly familiar face has been missing from the Saturday Morning Market for several months.
By Emily Zambrano
ST. PETERSBURG – With every St. Petersburg landmark you can think of, there's a painting of it signed "Juan Santos Garanton" in someone's room.
Having sold more than 1,000 paintings, Garanton is renowned in the St. Pete community for turning everyday sights into iconic landmarks for residents and visitors through his watercolor paintings. The presence of his art at the Saturday Morning Market, located downtown, will be missed as his absence continues.
Garanton hasn't attended the market in a few months so he can support his wife, ChiChi Garanton, as she battles breast cancer. ChiChi has been by his side through all his adventures, and now it's his turn to be there for her.
"That's ChiChi, my wife… she's my muse," Garanton said when reminiscing on old sketchbooks.
Garanton says that this break is temporary and that he will return to share more of his art with the community.
With the hope of one day traveling back to their hometown of Caracas, Venezuela, to paint the landmarks holding the memories from their childhood, Garanton's style continues to develop, and ChiChi continues to smile proudly at the years of hard work she has witnessed.
With a profound bond like theirs, they will bring about wonders to be loved by all.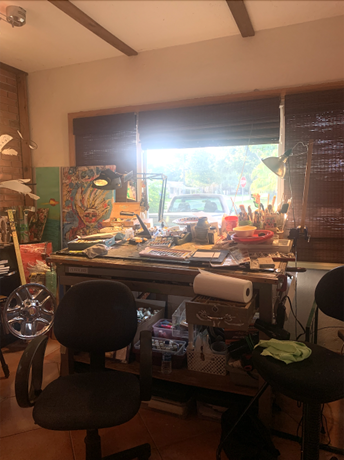 After meeting in St. Petersburg in 1979, when Garanton was studying at Eckerd College, they moved to South Florida, where he earned his degree in advertising design at the Art Institute of Fort Lauderdale.
Their next adventure was getting married and moving back to Venezuela within three days of his graduation. They could only stay away from St. Pete for a couple of years, and eventually came back and moved into their current home of 40 years.
Now, they are facing the fight against cancer together.
As a member of the St. Pete community for so many years, he has watched it continue to change and develop. He has been going to the Saturday Morning Market for 20 years and was one of its first vendors.
"When it first started, we just looked like seven idiots," Garanton said. "And then it just grew and grew."
It was at this market that Garanton became known for his paintings of St. Pete. As a non-believer in prints, every piece he sells is an original Garanton, an image transferred straight from his eyes and heart onto a canvas.
"Having his paintings makes me so happy to look at," St. Pete resident Kate Walker said. "I have a painting of Ceviche, and it reminds me of all the memories I have there. I have been wanting to get more of his pieces and have no idea where to find him since he hasn't been at the market in a while."
Although Garanton and ChiChi are taking a break from the market, fans don't have to worry about saying goodbye forever. They plan to make a reappearance next season and are excited to be back in that environment.
"A lot of people love everything he does," ChiChi said. "Plus what we love about the market is the stories, it's wonderful, and the memories people share."
Despite the challenges he has faced, Garanton has found ways to follow his passion and share his work with the world. His latest focus: abstract oil paintings.
"Watercolor is my forte, but this is more freedom," Garanton said. "I've been dealing with all these personal things but when I paint these, I feel like I'm going in the right direction."
Garanton is submitting his work to be on display at the Art Fusion Museum in downtown St. Pete. His work was recently on display at the Dali Museum in a special exhibition, along with 11 other local artists.
As a strong believer in the power and diversity of art, Garanton encourages anyone and everyone to let their emotions flow and express themselves in their own style of art.
"Just do it," Garanton said. "I think just do not critique yourself, just do what you feel. Let it flow. You can make art with anything. For some people it's garbage, for other people it's art."
The style of art that Garanton will be sharing in the future may be different from his watercolors, but it is guaranteed that the art he shares will hold a sense of passion and freedom. His latest creations demonstrate his love for painting in its truest form.
To Garanton, art is meant to be shared. It is meant to be seen and appreciated by other people, and with the endless walls of canvases gathered in his studio, his impact on the St. Pete community is far from over.
You can find more of his work on his website, https://www.juansantosgaranton.com/.